Internist, General Practitioner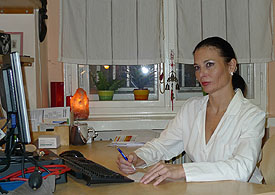 After studying Medicine at Charles University I first specialised as an Internal Physician then as a General Practitioner.
During my extensive experience (in hospital, international clinics, emergence services, on missions in Kazakhstan) I gradually began to realize that most diseases are psychosomatic in nature and therefore I started studying Psychosomatic Medicine, Psychotherapy, Homeopathy and other alternative branches of Medicine (such as Herbal Medicine, Hypnosis, etc.)
Therefore – if interested – I offer a holistic and comprehensive approach to treating and the human.
My personal opinion
I personally believe that using the classical treatment with chemical drugs alone cannot heal a patient fully, but only suppress the symptoms and disease persists under the surface. And if I really want to help the patient, I need to focus on the "psyche" too.
Therefore I work in cooperation with other professionals in Psychosomatic Medicine, Psychotherapy, Homeopathy, Chinese Medicine, etc. and I can offer a comprehensive holistic approach to disease and human.
Education
Faculty of Medicine, Charles university Prague (graduated in 1991)
Specialization
Internal Medicine – specialization exam in 1996 + Licence
General Medicine – specialization exam in 2005
Psychotherapeutic University – finished 2008
Homeopathy University – finished 2009
Psychotherapeutic Training – Psychodynamic branch – finished 2011
Psychosomatic Medicine – finished 2011
Method "The Journey" – method of healing , Certificate from Brandon Bays
University of "New Age" (alternative branches of medicine) – study from 2008 to ..?
Experience
Department of internal medicine, General University Hospital (1992-1999)
Kardia Ltd. – private clinic specialized in internal medicine with high standard care, cardiology care, emergency services (1999 – 2001), transtelephone monitoring ECG
Health Centre Prague – high standard international clinic (2001 – 2003)
Czech Clinic in Kazakhstan – general practitioner, internist, basic surgery and traumatology (2003),
EMERGENCY SERVICE
Obstetrics and Gynaecology Clinic (2003)
Meditrans – private emergency service
Canadian Medical Care-international clinic
Unicare Medical Centre-international clinic
Languages spoken
English
Russian
Passive French
Courses and certificates of post gradual education courses
Classical Medicine – Urgent medicine, Diabetology, Cardiology, Nephrology, Haematology, Rheumatology , Infectious diseases, etc
Homeopathy University
Psychosomatic medicine
Psychotherapy University (including 4 years training)
The Journey Method (Certificate from Brandon Bays)
University of Alternative Medicine